Concord and Charlotte Cardio Kickboxing Classes
Melt Calories. Get Fit. Have FUN! That's What Our Classes Are All About!
Learn to drop pounds and get in the best shape of your life all while learning the proper way to move and throw kicks and punches for effective self-defense at Scott Shields Jaguar Martial Arts in Matthews and Charlotte. What makes our Cardio Kickboxing program unlike anything you've ever experienced?
Scott Shields Jaguar Martial Arts has taken the best techniques from kickboxing and physical fitness and developed them into our Cardio Kickboxing Classes.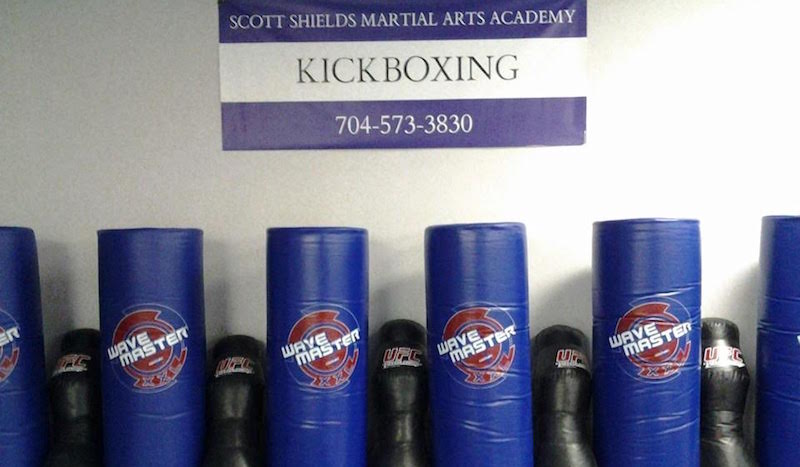 Kick And Punch Your Way To A New, Fit Body!
This is the last Kickboxing workout you will ever need! No other workout burns more fat and calories, or builds and tones muscles as well. In Scott Shields Jaguar Martial Arts's friendly, group environment you will get the personal attention, with the support and fun of a group class.
Our schedule is set up to make it easy for anyone to drop their kids off at school and then get an incredible full body workout that will tighten your arms, strengthen your legs, and give you that tight, defined core you've always dreamed of. Our Cardio Kickboxing classes in Matthews and Charlotte involve contact with bags and pads that will have you confident, and happy!
Enroll Today!
Kickboxing is a great way to get a total body workout while learning simple self-defense moves. Our Cardio Kickboxing students say the sport helps them to feel more empowered and confident. Why wait? Fill out the short form on the side of this page to get things rolling towards a happier, healthier, more confident you!
Benefits of Concord and Charlotte cardio kickboxing
Burn Over 800 Calories An Hour
Learn Simple Self-Defense
Increased Balance & Flexibility
Increased Coordination & Motor Skills
Better Conditioning & Motor Skills
Achieve The Body You've Always Dreamed About
REQUEST INFORMATIONS
Training Center Located at 3 Concord Commons Place SW, Concord, North Carolina 28027